Materials and Finishes
A great bike rack will both match your vision and be incredibly durable. With numerous material, finish and color combinations available, we are sure that we have the right product to meet your aesthetic and project needs.
Use the information on this page to review the materials & finishes Madrax offers, along with insights and warranty information to help decide on the best options for you.
Bike Rack Materials
With any bike rack you might select, it is likely it will be manufactured using some type of steel.
This is an ideal material to use as it offers the most resistance to cutting and bending, at an affordable price point. We could make bike racks out of titanium. But no one would pay that much. And bending it would be quite difficult.
But when it comes to the type of steel the bike rack is constructed of, one key thing to be aware of is if it is tubing or pipe.
Tubing vs. Pipe
Tubing is commonly used for structural purposes, making it the preferred material for manufacturing bike racks.
Tubing size is specified by the outside diameter (OD) and the wall thickness and is stated as a gauge. The lower the gauge, the thicker the tubing. The thicker the tube, the more difficult it is to cut through or bend.
As a reference, Madrax typically uses 10-gauge tubing on its bike racks.
So really what you'll be deciding on is the size of the tube or OD.
For example, you might see a bike rack, like the Madrax U190, that is constructed of 1 7/8" diameter carbon steel tube. For comparison, the U238 is constructed with 2-3/8" diameter carbon steel tube.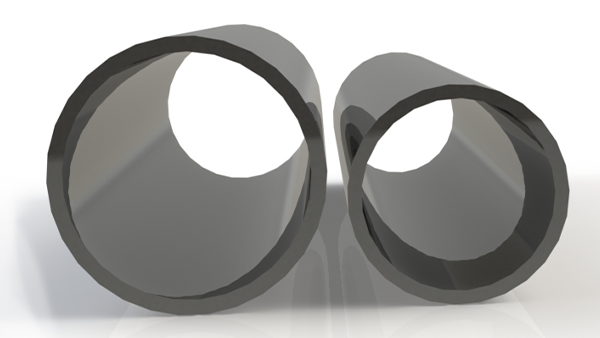 The thickness of the tube is the same on both. But the tube on the U238 is larger.
Alternatively, a pipe is a tubular vessel commonly used in pipeline and piping systems for transporting gases or fluids. Although, some bike rack manufacturers do use pipe as their selected material.
Pipe is specified by the Nominal Pipe Size and Schedule (the wall thickness). The higher the number, the thicker the wall.
Pipe is also softer than tubing. The finish has a visual difference as well.
However, because of its structural characteristics, Madrax uses and recommends tubing for bike racks that have a tube as part of its design.
Other Steel Types
Other types of steel you could encounter, depending on the bike rack design, could be carbon steel round bar.
An example of this can be seen in the Madrax Shark Bike Rack.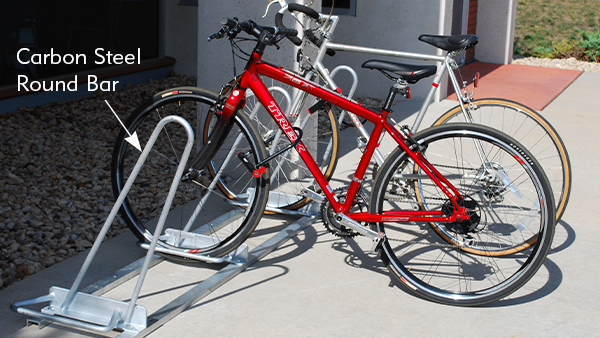 This type of steel is used in bike racks to create a thinner profile as compared to a tube. It is still incredibly tough to cut or bend.
Another type might be carbon steel flat bar. Like what is seen in the Stout Bike Rack.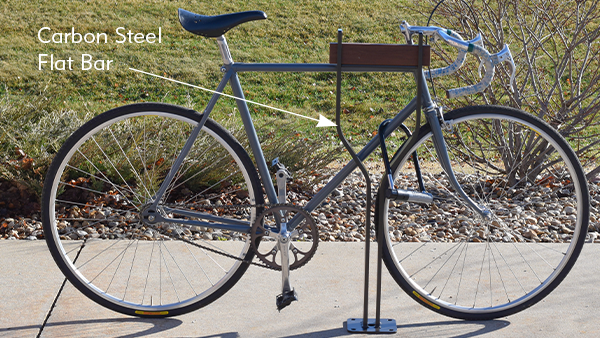 Again, this type of steel is used to give bike racks a unique look compared to tube. But it is still incredibly durable and resists cutting and bending.
Bike Rack Finishes
The next key factor in choosing the right bike rack is to select the most appropriate finish. The finishes you will most likely have to choose from are:
Galvanized
Withstanding the elements with little to no maintenance, galvanized products are durable and weather to a battleship grey. After the rack is fabricated, it is hot-dipped galvanized for a utility finish.
Madrax products with this finish are denoted with a -G. Exmple: U24-SF-G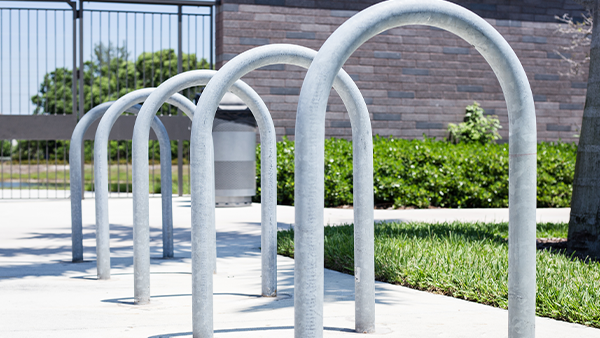 The item of note for this finish, the product will have vent holes. These allow draining after the metal has been hot dipped in molten zinc. Which gives the material its durable properties.
A galvanized product is an economical choice that resists rust. Galvanized will also have a slightly rougher texture than other finishes.
Maintenance
There is no regular maintenance required with galvanized steel. After years in service, it may begin to rust.
Surface rust is not a structural issue. The rack will only need to be replaced when rust has worn all the way through the tube.
Typical Warranty: 5 Years
Stainless Steel
Stainless steel is one of the most resilient finishes making it the choice for bike racks installed in locations with salty ocean air and other tough environmental conditions.
Crafted from stainless steel and polished to a rich, Satin #4 finish, these racks are a highly durable and attractive option that will last through decades of use.
Madrax uses a Grade 304 stainless steel for its bike racks as the standard option. Bike racks made with Grade 316 stainless steel is an available option but must be requested through a sales rep.
Madrax products with a stainless steel finish are denoted with a -S. Example: ORN-2-SF-S
Maintenance
This finish requires little to no maintenance. It should be advised that precautions be taken to ensure no chemicals are used to cure or treat the concrete or sidewalk area near the bike racks.
As this could affect the finish.
If this must be done, remove the racks or wait until the concrete work is finished before mounting the bike racks.
Typical Warranty: 5 Years
Electropolished Stainless Steel
Much like the stainless steel finish, electro polished stainless steel lends decades of durability to bike racks.
To achieve this sleek and polished look, electro polished stainless steel racks are finished by being dipped into an electro-chemical bath that removes mill scale impurities and adds a high level of shine.
Madrax products with this finish are denoted with an -ES. Example: ORN-SF-ES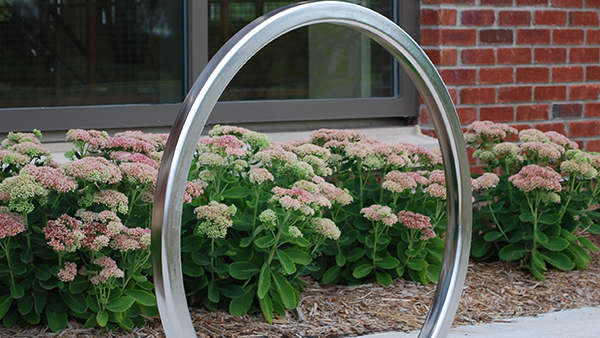 Bike racks with this finish require no maintenance. But precautions should be taken so the bike rack does not encounter other chemicals.
Typical Warranty: 5 Years
Black Vinyl Cushion Coating
Black vinyl cushion coating is a protective finish that is common on bike racks. The bike rack is coated with PVC to achieve a rubbery finish.
This is used as an added cushion to protect bicycles from potentially being dented or scratched by the bicycle rack.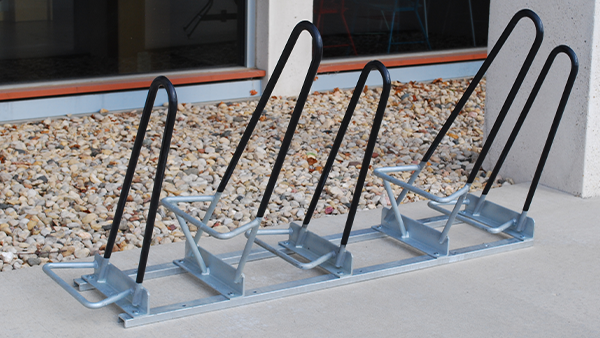 Most often, only the portion where a bike rack would rest or contact the bike rack would be finished with black vinyl cushion coating. It's unlikely an entire rack would be finished in this material.
The default color for this finish is black. Other colors are available upon request.
Typical Warranty: 1 Year
Powder Coat Finishes
For a smooth finish and a refined appearance, select one of our Powder Coats for your product. To ensure powder coat adhesion, the steel for this finish must be free of any scale, paint, varnish, or rust. We prepare the substrate prior to powder coating with a chemical wash and rinse followed by an iron phosphate treatment. See available colors below.
Super TGIC Powder Coat
For applications where the bike rack will be installed outdoors, Super TGIC Powder Coat is a preferred option as it will fade significantly less from UV light than other finishes.
This finish is how color is applied to bike racks, but also helps keep the rack's color vivid longer.
Madrax products with this finish are denoted with a -P. Example: U238-SF-P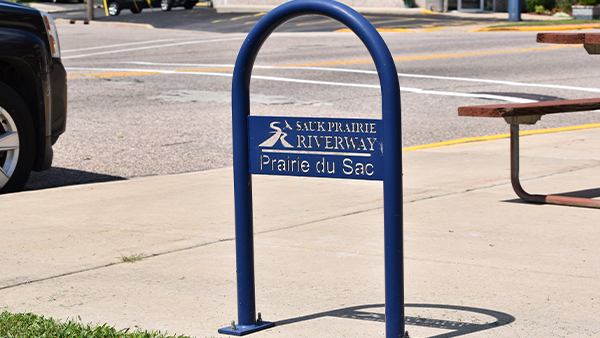 The super polyester powder coating finish is electrostatically applied 5-6mm thick after the bike rack has been fabricated.
Most manufacturers will offer a set of standard colors. Madrax has 22 to choose from.
Maintenance
The primary concerns to be aware of with powder-coated bike racks are scratches.
A scratch that goes deep enough through the powder coat and into the metal, can expose the rack to rusting.
If a scratch appears, applying touch up paint from the manufacturer can address this issue.
It's also advised to remove any debris or snow from remaining in contact with the bike rack finish. They could cause unnecessary wear.
Typical Warranty: 1 Year
Thermoplastic Powder Coat
Thermoplastic Powder Coat has a slightly thicker application and gives bicycles more protections from dents and scratches with a lightly cushioned finish.
Bike racks are powder coated after fabrication with the thermoplastic polyethylene coating, which gives the product a soft and protective quality.
This thicker application does limit some of the bike racks it can be applied. Racks that have designs with small corners can be difficult to get proper coverage. So this may not be an option in every instance.
The same maintenance recommendations apply as Super TGIC Powder Coat. But because of the thicker application, an occasional inspection is recommended to ensure the finish isn't peeling due to picking or scratching.
Thermoplastic powder coat is available in a limited color selection.
Typical Warranty: 1 Year
Powder Coated Stainless Steel
Constructed with stainless steel, powder-coated stainless steel racks are highly durable due to the anti-corrosive property of the steel and added layer of protection from the powder coat.
With this finish, the bike racks are polished and then coated with an electrostatically applied super TGIC polyester powder.
Typical Warranty: 5 Years
Powder Coat Colors
Standard Hardshell Powder Coat™ colors are shown. Contact us at 608-849-1080 or at [email protected] for additional available custom finishes.

*Due to variations in monitors, colors shown may not be an exact match. Please request color samples from Madrax for accurate color comparisons.
Bike Racks that Combat Rust
When it comes down to it, many people just want to know what finish is going to be the most durable and combat rust the longest.
Galvanized is incredibly durable and usually the lowest priced finish making it a common choice. This is inherently rust-resistant and can last for many years. Scratching would really be the only concern. As scratches in the finish can accelerate rusting.
Powder coat would be on par with galvanized. But it offers the ability to color the bike rack.
For salty environments, like coastal regions or where salt would be spread during the winter, a stainless steel finish will hold up the best. It's also much more resistant to scratching compared to galvanized.
It's not common to go with a powder-coated stainless steel finish, but this would provide the greatest amount of protection for the bike rack from rusting.
Ultimately, it comes down to a combination of budget and visual preference. Galvanized is a great "stock" options, where powder coat can add color and stainless steel has a distinctive and very appealing look.